February 25 2015
Christopher Columbus Cemetery, Havana, Cuba
The cemetery forms a rectangle of 140 acres, and its beauty is comparable to Pere Lachaise cemetery in Paris.
The Cuban people refer to this cemetery as City of Depths and World of the Shadows. LA Necropolis Cristobal Colon,
once located on the outskirts of the city, is now surrounded by the city of Havana.
The Central Chapel pictured below features Romanesque architecture, stained glass windows, and frescos. The chapel
continues to be used for funerals and is very much a part of the political, cultural and social history of the Cuban people.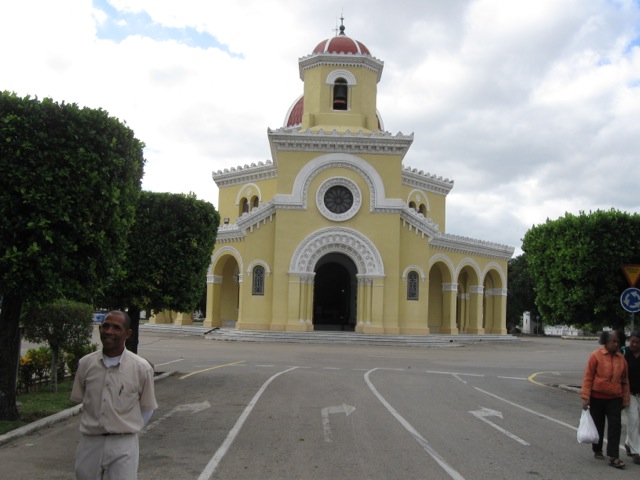 The next five photos show the Firemen's Mausoleum honoring firemen who died in a horrific fire and explosion at an
ammunition's shop in 1890.
The Firemen's Mausoleum is also known internationally as The Victims of Charity and is made of Carrara marble
by the architect Julio Zapata and the sculpture Agustin Querol, both Spaniards. It was unveiled in 1897.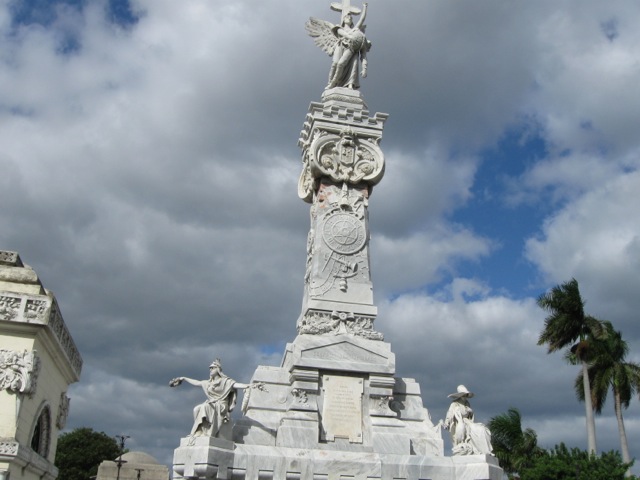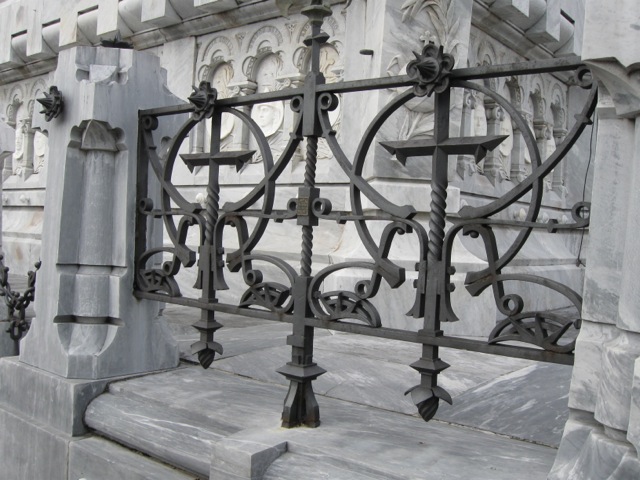 Note the Chain of Tears and medallions showing the faces of several firemen. The mausoleum sculptures represent
courage, resurrection, and eternity.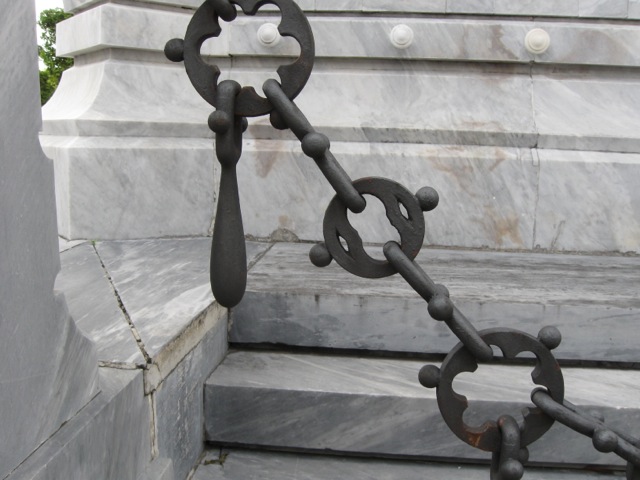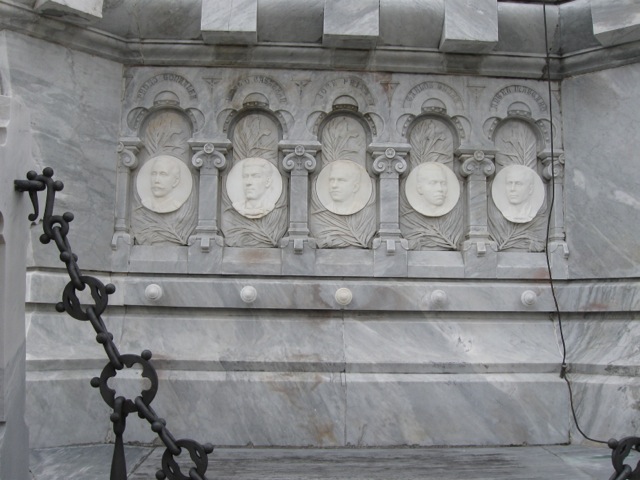 The most visited grave in the cemetery is the tomb of Amelia Goyri de Hoz, known asThe Miraculous One. The deceased
died during childbirth and was buried along with her child.When the sarcarphogus was opened in 1901, she was holding
the baby in her arms - the same baby that was placed at her feet when buried.People touch the figures of mother and child
and also knock three times with one of the brass rings located on the tomb. Wishes are granted and as you leave the site,
you must never look back.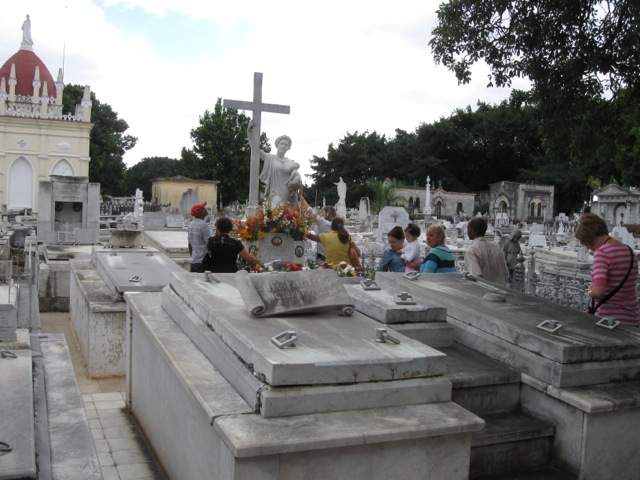 Famous military heroes, poets, writers, scientists, veterans from the Wars of Independence, artists, architects, as well
as victims of tragedies are some of the people buried here with appropriate monuments and tombs. Beautifully cleaned
and restored marble tombs, replicas of pyramids, grottos, and even palatial mansions are in abundance.
Below are some additional photos of only a few of the many curiously beautiful monuments to Cuba's ancestors.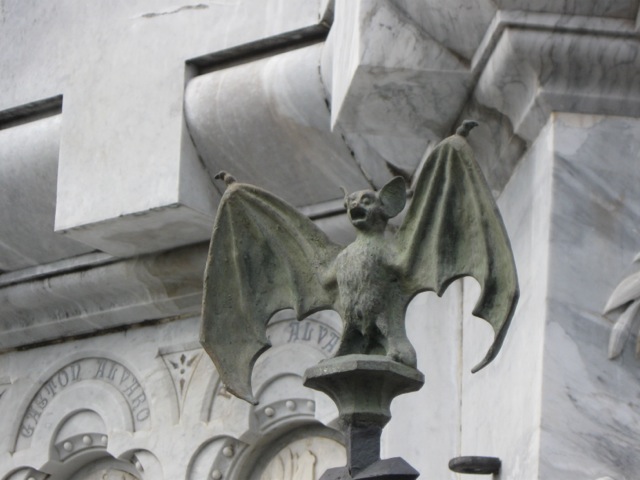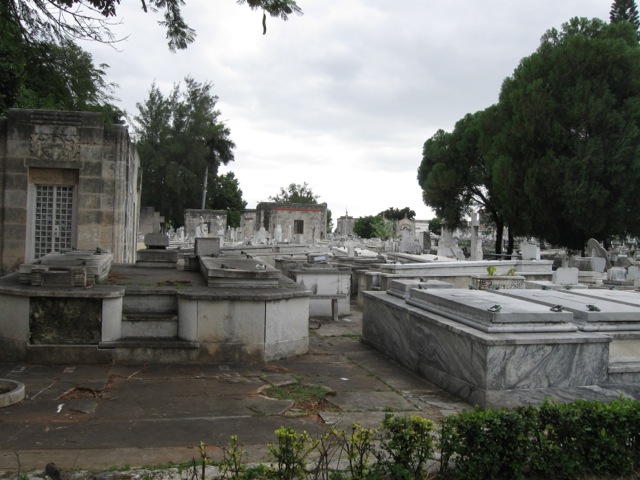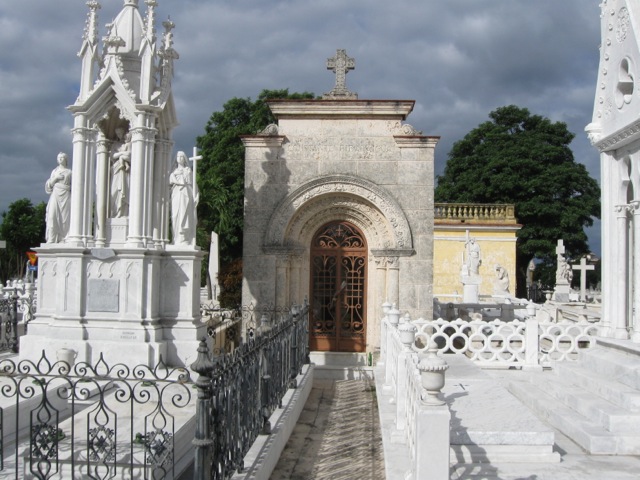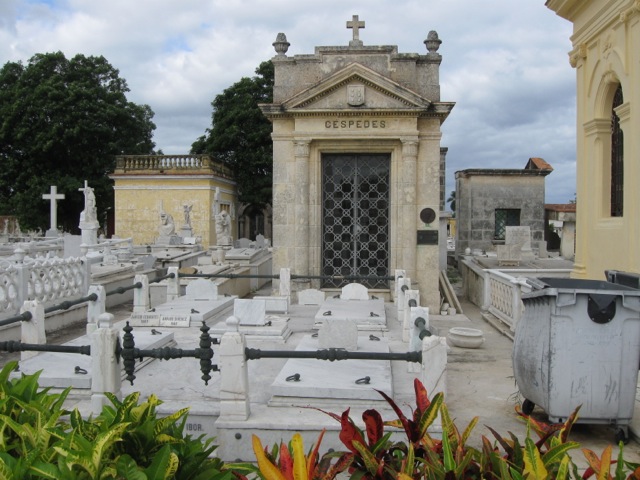 For more information, please feel free to contact us at gravestonerubbingsupplies.com or gravestoneartwear.com
© 2015 Gravestone Artwear®
January 28 2015
Microburst Storm Damage to The Old York Burying Ground, York, Maine
On July 3, 2014, a "microburst" exerted its power late in the afternoon in York, Maine. It uprooted ancient maple and oak trees; snapped other large trees in half as if they were toothpicks, and twisted apart and destroyed younger trees. Roofs and cars were crushed by fallen trees. Miraculously, no one was injured. The damage done by this "microburst" had enough high winds to knock out power lines and causes damage to anything in its wake.
That unfortunately included our old burying ground in the heart of York Village, Maine. Aside from being the oldest cemetery in York, The Old York Burying Ground is also home to an old stand of sassafras trees planted in the early part of the 20th century to enhance the beauty of this quiet, peaceful place. The Old Burying Ground is the final resting place of many of York's original settlers, town fathers, and ancestors.
Buried here is the Reverend Samuel Moody (1675-1747) and his wife Hannah Moody (1676-1727); Jonathan Sayward (1713-1797), a prominent local merchant; Edward Emerson (1727-1806), another prominent merchant; and the most famous gravestone in the Old Burying Ground, Mary Nasson (1723-1765), known as the witch's grave because of the stone slab which covers her grave. The stone slab is actually called "a wolf stone", placed there by her loving husband to keep farm animals from digging up her mortal remains.
Note the photo below which shows how close the John Bragdon stone came to being destroyed by a fallen tree. This stone was often cited by ministers as an example of the inevitability of death and the foolishness of pride. It reads:
John Bragdon, a promising youth, departed this life June 19th 1744 in ye 23rd year of his age with some comfortable hope in his death, after great distress of soul and solemn warning to young people not to put off their repentence to a death bed.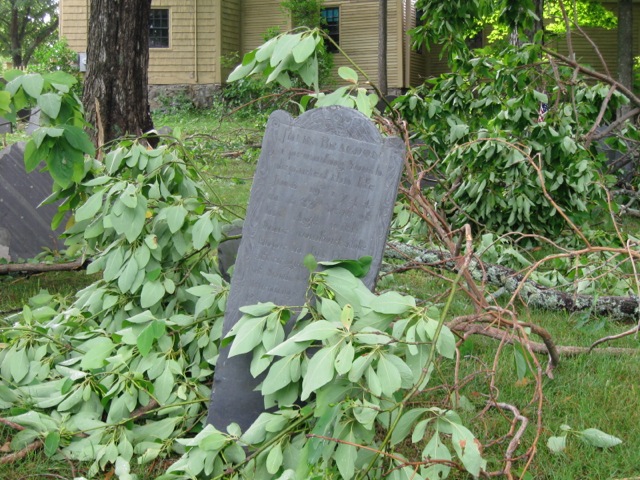 The remaining photos show more of the damage to The Old Burying Ground. Fortunately, very few of the approximately one hundred and fifty 18th and 19th century gravestones were damaged or destroyed. An effort by local historians, concerned citizens, and cemetery preservationists is underway to assess the damage, including repairing gravestones, reproducing the broken ones, and to replant the beautiful fragrant sassafras trees. For more information, please contact us at .(JavaScript must be enabled to view this email address).
Paulette Chernack and Cassandra Davidson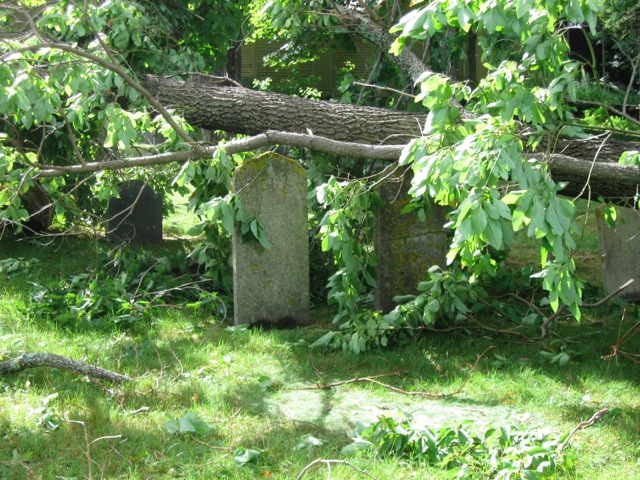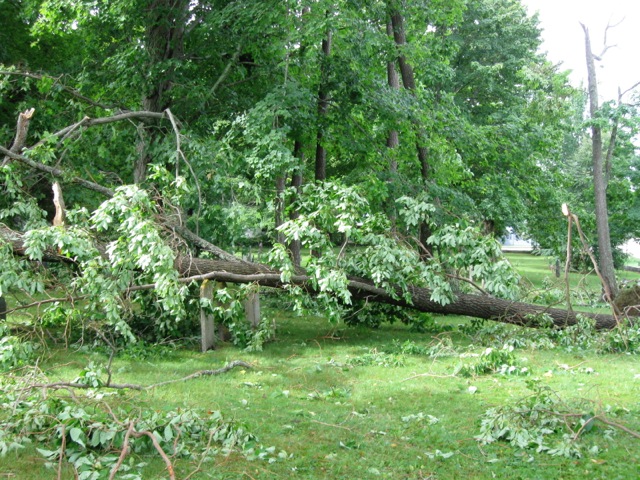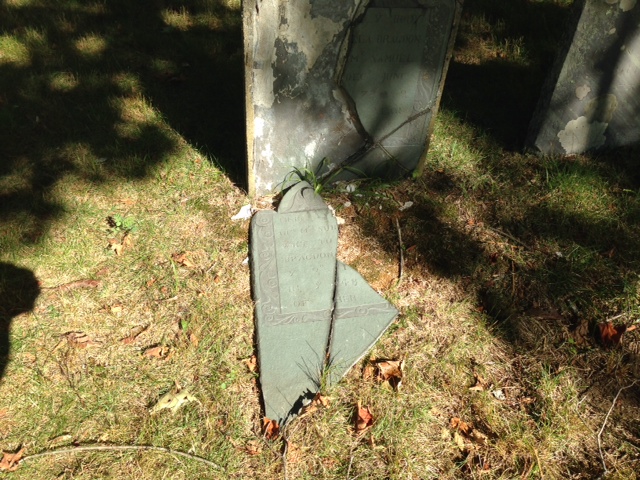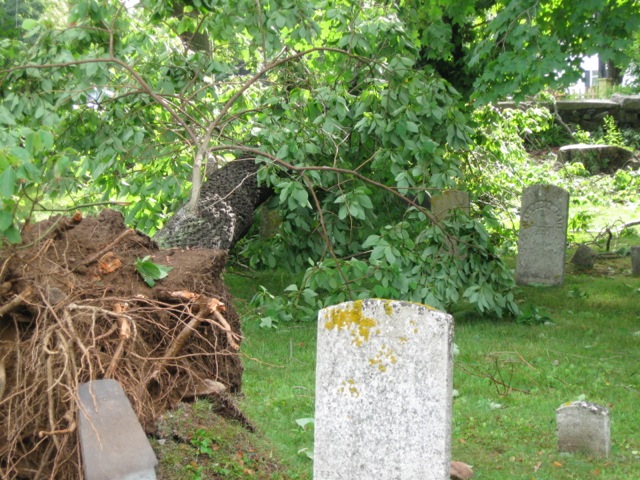 Still reflecting the event with left over debris we must "Massage tree roots and soil"

October 05 2012
Elephants Past and Present in Maine and North America
Old Bet, the elephant was shot in 1816.Being an enormous animal, she was buried on site.This rubbing shows a plaque commemorating her unfortunate demise near Alfred, Maine.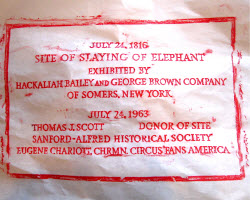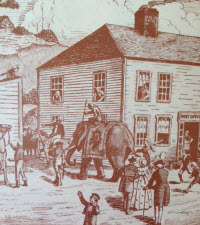 One of the many historic scenes attributed to Louis Roscoe Linscott (1876-1966) a New England designer and illustrator.
The elephant is thought to have been the first elephant ever seen in Massachusetts in the early 1800s.
Elephants Past and Present in Maine and North America
The year is 1816 and the circus comes to town in Alfred, Maine. Hachaliah Bailey of Somers, New York, bought the elephant from a menagerie in Boston and named her Old Bet. She was either the first or second elephant brought to the United States and Bailey toured the northeast with her. He charged a small fee or two gallons of rum as an admission price to see her. One legend is that a man was afraid of her as she was paraded along the road near Alfred and shot her. The other story is that a farmer thought it sinful for people to pay to see an animal. Because of Bailey's financial success in touring Old Bet, soon other exotic animals started traveling with the circus. She was the first.
Elephants in particular served a dual purpose in the circus. They performed and also were forced to move heavy equipment and haul huge tents. They were often treated poorly; shacked and neglected. Topsy, the Coney Island, New York, elephant killed three trainers whose apparent brutalities caught up with them. Unfortunately, Topsy had to go – The owner of the amusement park wanted to put her to sleep, but made quite the show of it. The cyanide-laced carrots she was fed didn't kill her. So park officials decided to electrocute her. On January 5, 1903, while 1,500 people watched, three ton Topsy was electrocuted under the direction of Thomas Edison. A horrific event to say the least!
Then there was Jumbo who was brought to the US by circus owner P.T. Barnum in 1881 from the London Zoo. He was the most famous of the 20 elephants Barnum brought to exhibit in New York and across North America. He was killed when he was hit by a locomotive in St Thomas, Ontario, Canada in 1885, while parading through the city. The name Jumbo has become synonymous with anything that is huge.
Finally Good News for Elephants. In 2011, in Hope, Maine, two people; namely, veterinarian Dr. Jim Laurita and his brother Tom start a campaign to bring injured elephants to Hope, Maine, where they live. Jim spent many years as a compassionate elephant trainer in the Carson & Barnes circus. He learned more about elephants as he worked to protect and help them, including elephants at the Bronx Zoo, Wildlife Safari in Oregon, and Veterinary school at Cornell University.
Jim kept in touch with the circus and knew about Rosie, the 37-year old elephant who was crushed against a truck by another elephant. Her leg never healed and she was spending her time separated from the other elephants, arthritic and unhappy. Under Jim and Tom's leadership, the people of Hope, Maine, rallied around saving Rosie. Donations, a heated barn, fencing and federal and state approvals for the project have made saving Rosie a reality. Jim and Tom were also offered a companion for Rosie. So now Opal, a 40-year old female who was also injured, and Rosie live in Hope, Maine, the town that saves elephants.
For more information and how you can help the Hope elephants and and to also see photos of Rosie and Opal go to hopeelephants.org
Mel Allen's article, "Hope for Rosie," which appeared in the September/October, 2012, issue of Yankee Magazine inspired us to write this blog about elephants in North America.
Additional information was obtained on line from
~A resident of Luna Park~
March 11 2012
The Kalaupapa Park Service is using our Gravestone Artwear Rubbing Supplies to Record History.
The Kalaupapa National Historical Park Service on the Island of Molokai, Hawaii, is using our Gravestone Artwear Rubbing Supplies to Record History.
Between the years 1866 - 1948 an estimated 8,000 people, mostly native Hawaiians, were forcibly taken from their families and sent to the Kalaupapa Peninsula because they were believed to have had leprosy, now officially named Hansen's Disease. Since there were no antibiotics in the 19th century, isolation was thought to be the best solution to deal with this contagious disease. The first group of 12 people arrived on January 6, 1866, and consisted of nine men and 3 women. They were accompanied by 4 family members who were designed as helpers.
The Kalaupapa National Historical Park is located on the island of Molokai in the State of Hawaii and was designated a national historic landmark on January 7, 1976, to honor and perpetuate the memory of those individuals who were forcibly relocated to the Kalaupapa Peninsula.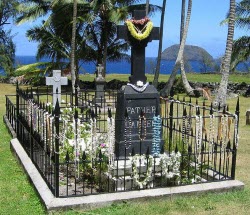 It's most outstanding citizen of this colony was Father Damien deVeuter who arrived at Kalaupapa in 1873 and lovingly served the leprosy patients for 16 years until his death from the disease in 1889. He was canonized a saint on Oct. 12, 2009, by Pope Benedict XVI and is buried in the graveyard adjoining St. Philomena's Catholic Church, one of two churches on the island. Mother Marianne Cope who devoted her religious life to care for women and children leprosy patients will be canonized as a saint by Pope Benedict XVI on October 21, 2012.
There are two cemeteries on the island which include many unmarked graves as well as monuments and markers to respect the victims of Kalaupapa tragedy. Our Aqaba rubbing paper and gravestone rubbing wax are being used under the supervision of Ka'ohulani McGuire, Cultural Anthropologist, to record all the information found on markers in these cemeteries for posterity.
Visitors are welcome to visit this beautiful remote island. Access to the island is limited to airplane or boat ride. Once there walking and mule ride are the best means of transportation.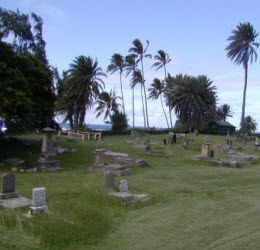 Please visit the Kalaupapa National Historical Park site at http://www.nps.gov/kala/index.htm to read about its plans to commemorate a memorial to the Kalaupapa patients.
November 20 2011
Gravestone Artwear has donated 10 percent of its Fall T-shirt sales to CARE International
The famine and refugee crisis in Africa continues. All of you who purchased Gravestone Artwear t-shirts this fall helped us donate 10 percent of each sale during the months of September and October to CARE International to help support its humanitarian efforts to fight poverty. A Gravestone Artwear check in the amount of $300 has been sent to CARE to help bring relief to the more than 13 million people in the Horn of Africa who are in urgent need of lifesaving humanitarian assistance, including woman, children and the elderly in Ethiopia, Kenya, Somalia. Thank you all for helping to support CARE in its efforts to improve the lives of the world's poor.
For more information about how you can help,
Please visit CARE's website: http://www.CARE.org/
June 27 2011
Annual Association for Gravestone Studies Conference

The 34th annual conference of the Association for Gravestone Studies (AGS) was held at Colby College, Waterville, Maine, June 14 – 19th. There were lectures, workshops, exhibits, tours of Maine cemeteries and even sales tables – something for everyone interested in gravestone studies.
Lecture topics presented included Lynne Bagget's "Incised Letterform". As demonstrated by Lynne, through careful examination of carved lettering, a stonemason can be identified and his heritage revealed. She also takes this process one step further and creates the most interesting art forms from lettering found on graves and other resources. Even her cast forms taken from contemporary sign lettering have their roots in the ancient carvings.
Always, these lectures and workshops display our cultural heritage and our connections to ancient, medieval, colonial and Victorian influences when it comes to gravestone art and the men and women who carved the stones.
Other papers were presented on topics ranging from images of turn-of-the century Maine; rare Jewish cemetery monuments; portrait gravestones, finger pointing hand carved gravestones of the 19th Century; sandstone markers in Tuscaloosa, Alabama, cemeteries; grave structures in Louisiana and other parts of the South; Yellow Fever Epidemics; Old Dutch Cemeteries, and even a lecture on the allegorical death scene in which an angel guides a soul on the last voyage across water to a distant land. All of these lectures required a great deal of research by each presenter and inspire further study into each topic.
The most noteworthy hands-on two-day workshop during this conference is the Conservation workshop. It's hard work and involves the participants in learning the proper techniques for cleaning, repairing, resetting stones and mortaring them into a base. And that's the "Beginner" Workshop. That workshop is followed-up by a full day advanced workshop which includes learning how to assess and document gravestones and monuments, use a consumer grade handheld GPS, advanced cleaning techniques, core drilling and removing rusted, damaged pins, adhesive repair of stone fragments and the use of various mortars for infills and replacement of lost materials. WOW! These workshops teach Association for Gravestone Studies participants conservation and restoration skills and they in turn use these skills to work in their favorite burying grounds and cemeteries to restore damaged markers, gravestones and of course monuments.
Other workshops included letter form casting; photography; making foil impressions of gravestones; paranormal experiences; understanding the history and evolution of cemetery markers; gravestone rubbing; and even "humor in the graveyard."
The next AGS conference will be in June of 2012 at Monmouth University, West Long Branch, New Jersey. Please contact the Association for Gravestone Studies in Greenfield, Massachusetts, for more details. Its web site is: http://gravestonestudies.org/
(Please scroll down to see the Gallery from our travels while we attended the conference)

Here are photos of AGS conferees wearing Gravestone Artwear t-shirts.
Jane Macomber, President of the Maine Old Cemetery Association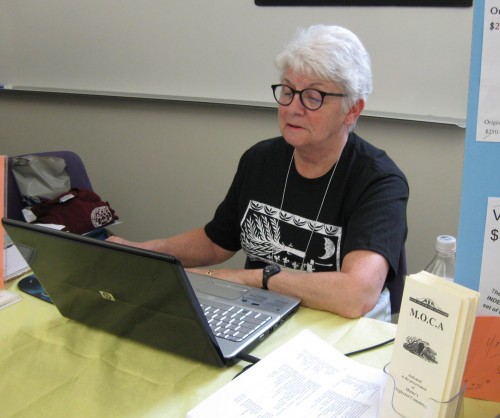 The Phil Wooldridge Family from Great Meadows, New Jersey—
Jack, Lorna and Phil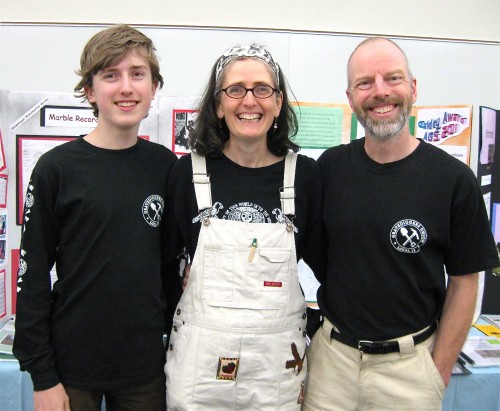 Other Conferees: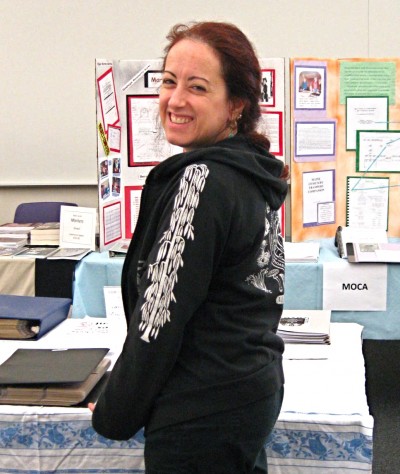 ~GALLERY of Our AGS 2011 Travels~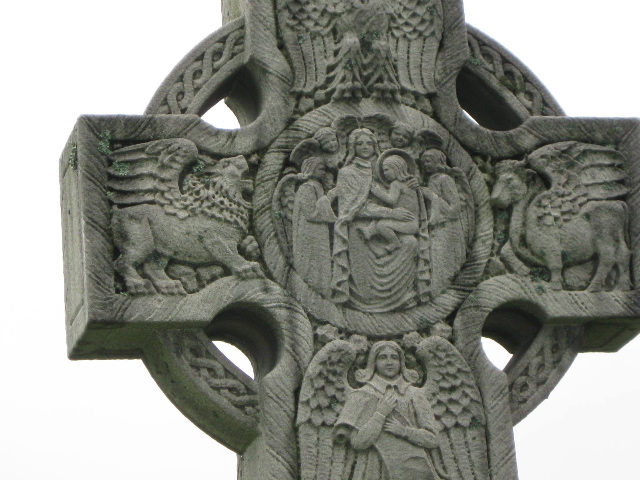 The above shows details from a Celtic Cross found in the Mount Pleasant Catholic Cemetery in Bangor, Maine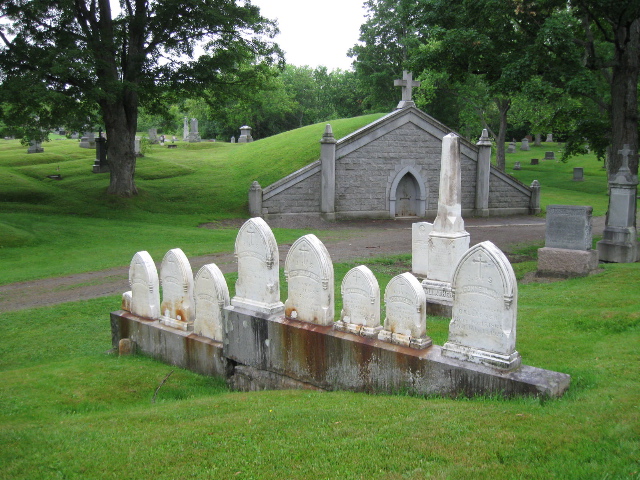 Several marble gravestones and the ~Death House~ in the background at Mount Pleasant Catholic Cemetery in Bangor, Maine. **Note: In most New England cemeteries, the Receiving House or Death House as it is called in Bangor, Maine, is the place where the deceased were kept until spring when the ground thawed enough to enable proper burying of the deceased.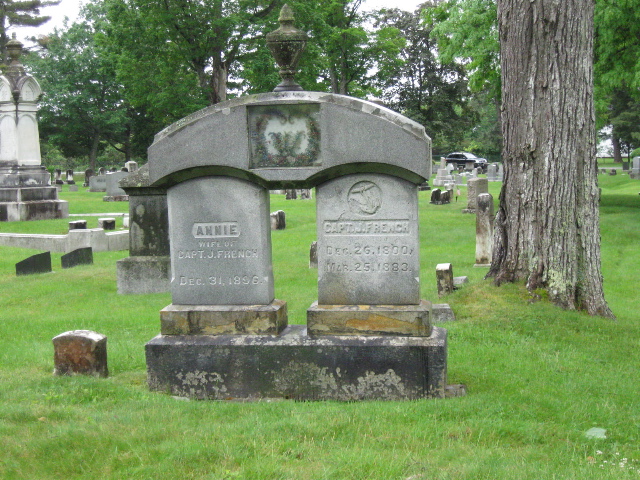 The Annie and Captain J. French memorial at the Mount Hope Cemetery in Bangor, Maine. This is America's second garden cemetery, designed by Charles G Bryant in 1834. The first garden cemetery is Mt. Auburn Cemetery in Cambridge, Massachusetts. This above photo is the stylish monument which Annie French patented and included the beautiful wreath.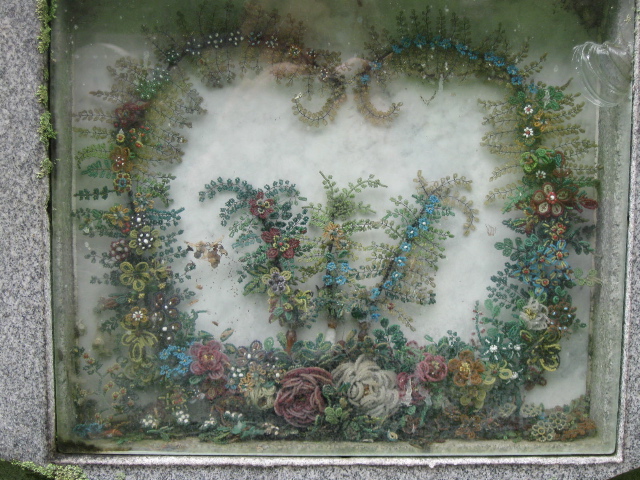 A close up of the beautiful wreath of glass beads.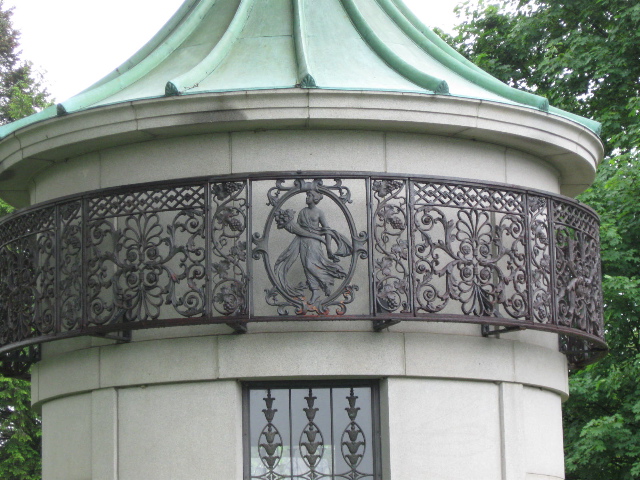 This beautiful building with its ornate ironwork was a departure and arrival station house for visitors to and from the cemetery by streetcar in the late 19th and early 20th century. **Note: The Mount Hope Cemetery, Bangor, Maine, one of America's most beautiful rural garden cemeteries encompasses over 250 acres. The cemetery includes the grave sites of Hannibal Hamlin, Abraham Lincoln's Vice President. Other notables are two U.S. Senators, eleven U.S. Congressmen, two U.S. Ambassadors, five Maine Governors, eight Civil War Generals and numerous others.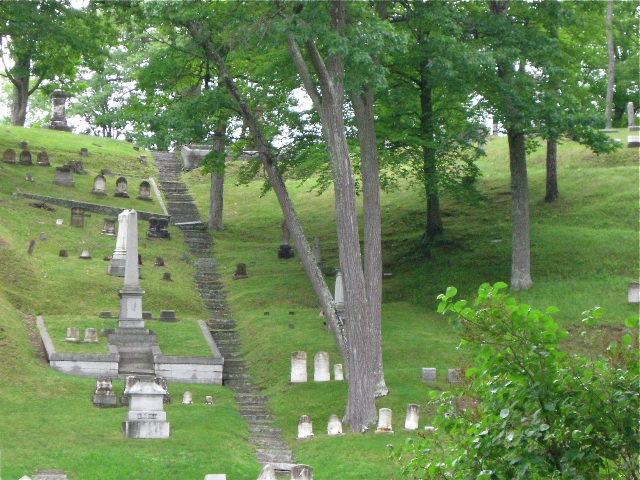 These stones steps at Mt Hope Cemetery were photographed during the funeral scene in Stephen King's movie, Pet Semetary. For those of us who have seen the movie, Stephen King even made a cameo appearance as the minister who officiated at the funeral of Missy Dandridge.
And what trip to Bangor, Maine, would not be complete without a drive-by past Stephen King's house. Shhhh, we'll never tell you exactly where it is so you can appreciate this lovely facade and especially the unique gate from the photo we snapped. After all, this is what we would expect Stephen's King's house to look like. Right?
May 15 2011
The Start & The Change
Where we started so very many years ago,
Unfortunately, We no longer are using the in shop in the York Town Center, We moved our studio to York Harbor, Maine. Although We no longer are using a public "walk In" store front we are hoping that everyone that bought from us in the past will just pop on the Internet, we will fill their orders as if they were right in front of us !
Those of you that have gone through the change with us, thank you so much for the orders and positive thoughts as we moved many years into a new location and have been getting the Internet side of things set up for this site, As well as also Gravestone Rubbing Supplies.com.
** Please feel free to send in pictures and stories, So we can out yours up here,So we too can share in others travels and good times Enjoying the Rubbing Side of things. ~Thanks again Paulette Chernack & Cassandra Davidson~
May 15 2011
A Bit of Stone History
The Early New England Burying grounds were the FIRST public Art Galleries of the New World, Even today, many of these verdant, tranquil sites contain a remarkable progression of the artistic, cultural, and religious history of the region.Often old Gravestone's explain how an ENTIRE family lived and died.Neglect, natural, aging, vandalism. Unfortunately, have resulted in the destruction of some of the finest examples of early stone carving, and numerous old cemeteries are closed to the public to protect the remaining stones.